Recurring Cleaning Services in Bakersfield, CA

rated 4.9 out of 5 stars by 200 clients


Think about how many times you have come home after a long, stress-filled day to a house filled with dust, dirty floors, and sheets that need to be changed. Now imagine coming home to a completely clean, fresh-smelling home. You can make that vision a reality by using Clean Stride's weekly, bi-weekly or monthly maid service.
Most Trusted Residential Maid Services in Bakersfield CA
Imagine coming home to a spotless house knowing you didn't have to lift a finger or plugin a vacuum to get it that way! Most of our customers tell us they don't know why it took them so long to hire a cleaning service.  Once relieved of the never-ending chore of keeping the house clean, they say they would never go back!
Take back your weekends.  You deserve it!
Weekly, Biweekly or Monthly Cleaning Services
Clean Stride offers recurring cleaning services on a weekly, biweekly, or monthly basis. Most of our clients feel that the biweekly cleaning services are enough to drastically reduce the amount of time that they and their families must devote to cleaning the house. Outside of daily cleaning chores like doing the dishes, biweekly services will take the bulk of the load off you.
How does this sound?
I never have to clean a shower or toilet again!
I gave up mopping floors for good!
No need to change sheets, the maid is coming tomorrow!
Leave it, let's go have some fun!
All of this is 100% possible when you sign up for our recurring maid services.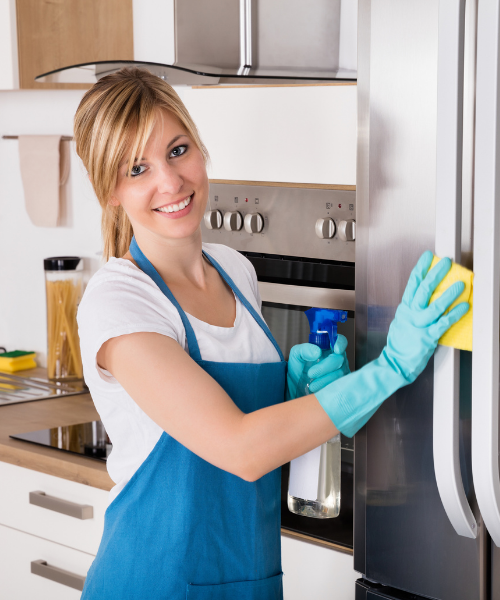 Our Professional Maid Services In Bakersfield - What Frequency Is Best For You?
Our monthly cleaning services in Bakersfield CA are designed for households that are not super busy with constant activity or a lot of pets. We will schedule your cleaning every four weeks to take care of the heavy cleaning chores. Because we only come once a month, there may be some chores that will have to be done (like vacuuming or mopping) between visits. This service is best for seniors, singles, and those on a tight budget.
Our biweekly cleaning services are the top choice for most of our clients. This every two-week cleaning is great for busy households and our pet lovers. Since we will come to clean every two weeks, there's little cleaning that will need to be done between visits beyond daily chores like keeping the kitchen cleaned up and running a quick vacuum. We'll take care of the heavy cleaning like the tubs, showers, and floors.
Our weekly cleaning service is a luxury. If you are simply tired of cleaning the house, and ready to completely outsource it, a weekly cleaning service is a great choice. We'll take care of the house cleaning and all you'll need to do is the daily upkeep.
Ready for a Spotless House?